Cycling Unlimited AG, the race event organizer behind the Tour de Suisse and TORTOUR ultra-cycling marathon, teams up with ROUVY to make a unique Swiss cycling experience accessible to all pro riders and cycling enthusiasts around the world. Here is an overview and details of what is coming up soon.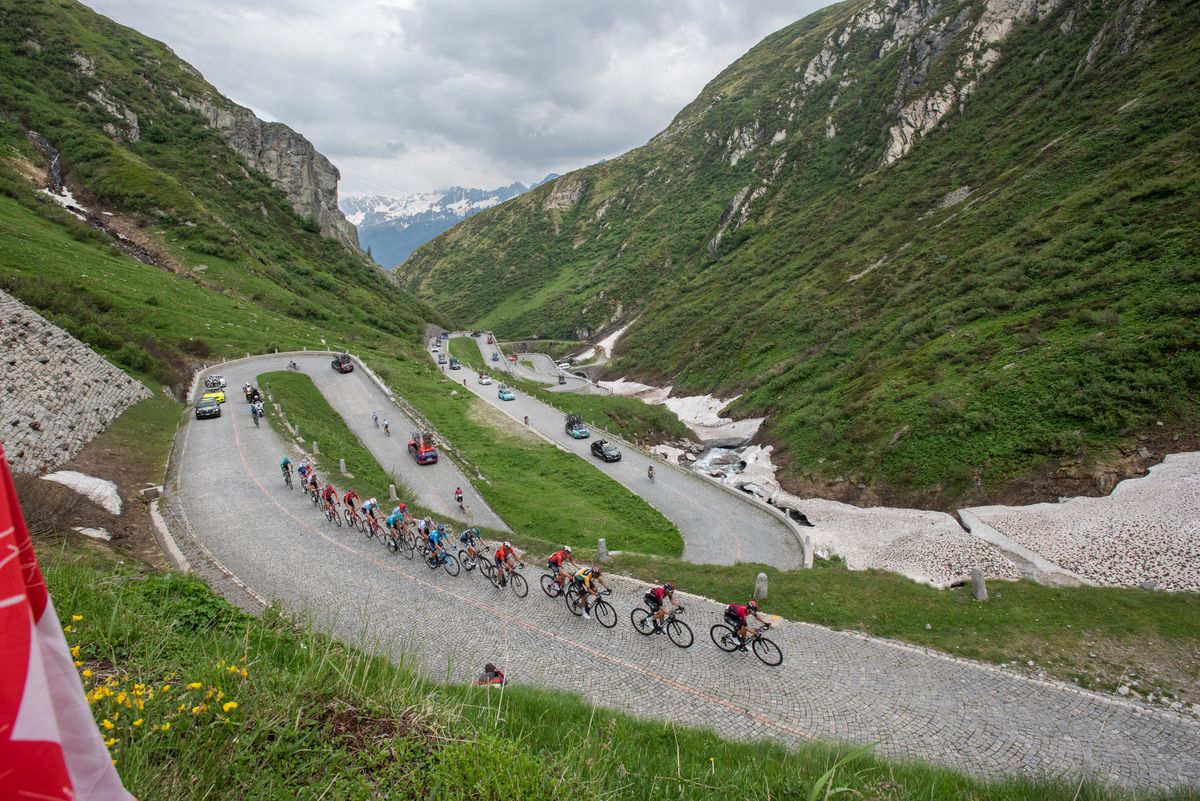 While here is an official presser, we would like to give you, as our most loyal customers who made this possible, a bit more insight into what this 3-year partnership deal exactly means for you, and what to expect in the meantime until the race takes place in June, 2020.
Why Switzerland?
Here is a little lyrical digression within a couple of sentences. Switzerland is known for having centuries-old public institutions, 200 years without a war, banks, chocolate, watches and a complicated confederative state structure with 4 official languages just for an 8.5 mil. population. This heartland of Europe has become a unique state of humanity. Cycling-wise, it is a remarkable land, too. The UCI headquarters are there.  World Championships and Cups of all sorts, from MTB to Road (and all kinds of others, like Downhill), are taking place there every couple of years. For its breathtaking landscapes, it is an equally popular cycling destination, just after Italy and France. Do we recommend visiting it? Oh, gosh, undoubtedly and absolutely yes, yes, yes!
With ROUVY you will get a sense of what it may be like, if you get to visit it one day. So, let's get to the events that are to be covered by this partnership deal and their background introduction.
Tour de Swiss
The Tour de Suisse (in Engl.: Tour of Switzerland) is an annual cycling stage race in Switzerland. Raced over nine days, the event covers two weekends in the latter half of June. Since 2011, the event is part of the UCI World Tour, making it the 4th biggest and toughest professional road cycling race globally, coming just after 3 Grand Tours.
No words will be needed, if you can watch (while 2019 TdS highlights are here, the overview trailer is from 2018, because all of the 2020 content is to be presented and produced starting from the mid-January press conference).
VISION
Here is a direct speech from the partnership side CEO's and Co-Founders:
Petr Samek, Virtual Training s.r.o. (ROUVY), Co-founder and CEO stated, "I am thrilled to see our vision starting to become a reality, which makes it possible for athletes to ride the 1:1 replica of the racecourse in advance, even before the actual event takes place. This idea, as a concept, is yet to be adopted by the race event organizers around the world, which may take years, but it is so exciting to see it happen with the 4th biggest multi-stage professional road race in the world! We surely expect the community to appreciate the experience of the legendary Swiss mountains and passes, and the virtual-but-realistic rides along with the pros. Switzerland is a countryside of fairy-tale landscapes and views, and we can't wait to deliver this delicious dish directly to the home of each athlete. And that's not all…our roadmap is full of exciting news."
Joko Vogel, Co-CEO and Co-Founder of Cycling Unlimited AG says, "With Rouvy, we have found the exact platform that we feel can help us make our events even more innovative, and expand and activate our community. It also has a great impact on tourism, as people all over the world can now drive routes in Switzerland (at least virtually), and then, possibly travel to Switzerland at a later date and drive the routes in real life. With Digital Cycling, not only the racing bike is real, but also the resistance that the smart trainer or roller puts on the pedals when the geolocated stage passes by on the monitor in real-time as a real GPS-synchronized video film.   From the starting arch – the king of the mountains and the billboards to the "Flamme Rouge" and the finish – everything is to be visualized and reproduced. This, in turn, is interesting for our partners/sponsors as we can offer an additional channel to help them achieve their marketing and communication goals for their services and products."
The part of the 3-year commitment with Cycling Unlimited AG is not only TdS, but also, the TORTOUR series. It is a beast of an endurance series known mostly within Switzerland or neighboring countries; therefore, we plan to give it a bit less emphasis. Nevertheless, for those who can enjoy more than a couple of hours on a trainer, don't miss any announcements on that great option as well.
TORTOUR
TORTOUR is one of the world's leading ultra-cycling races in terms of participant numbers. It lately split into Ultra (1,000 km. non-stop), Challenge (500 km. non-stop), Sprint (390 km. non-stop) and Gravel (200 km. in 3 stages).
You might be familiar with TdS, but get the feeling and atmosphere…
ROUVY-ing EXPERIENCE
This is the first Pro Tour race officially presented on Rouvy for the multi-rider AR mode, and our team is working hard to bring you the best parts of it.
Coming UP on the ROUVY menu for you:
Tour de Suisse Stages (in the short or complete versions)
Tour de Suisse Challenge
Tour de Suisse Group Rides
Tour de Suisse Online Races
TORTOUR routes (in the short or complete versions)
TORTOUR Challenge
TORTOUR Group Rides
TORTOUR Online Races
Top-notch prizes and surprises
As you may guess, over Q1/2020, the regular group rides and races are to be scheduled. Some of the training sessions will be led exclusively by former Swiss professionals.
There will be some more interesting things going on, but there should be some space left for the surprise. Right? 😉
Tour de Suisse 2020 stages summary:
"The 84th edition of the Tour de Suisse begins on Saturday, June 6, at the Start Hub in Frauenfeld, with the public team presentation and various popular side events. The Swiss national tour starts on Sunday, with a time trial in Frauenfeld. Bla-bla-bla…" Of course, if you are not one of the pro-racers or are not living anywhere nearby, that doesn't tell you much, or even bother you. Don't worry, for every presented and released stage, we will publish a separate blog post to keep it clean, clear and visible. This way, you won't miss any bit of it.
Get a taste of what it is like in the demo racing of the Oberalp Pass on ROUVY!
Wrap-up
No, we don't expect the combination of stationary training and online racing to in any way replace any part of the outdoor events. We would be very unhappy to see that happen. On the contrary, we hope the delivery of this exclusive and extraordinarily realistic simulation to the comfort of the home will motivate athletes and enthusiasts to visit and discover the same valleys and climbs for real. There are multiple reasons why staying indoors with ROUVY is even a better choice:  lack of time, focus on structured power training, weather conditions or preparation for the race day on the other side of the globe without having to travel. Most of the challenges on that list are solved, and today we are to take the next big step forward – to provide a PRO-TOUR RACE EXPERIENCE indoors! (Sounds both confusing and exciting, doesn't it? It always feels this way when new things arrive. And you can sense our anxiety… just like on a race-day. These are exciting days we live in, aren't they?)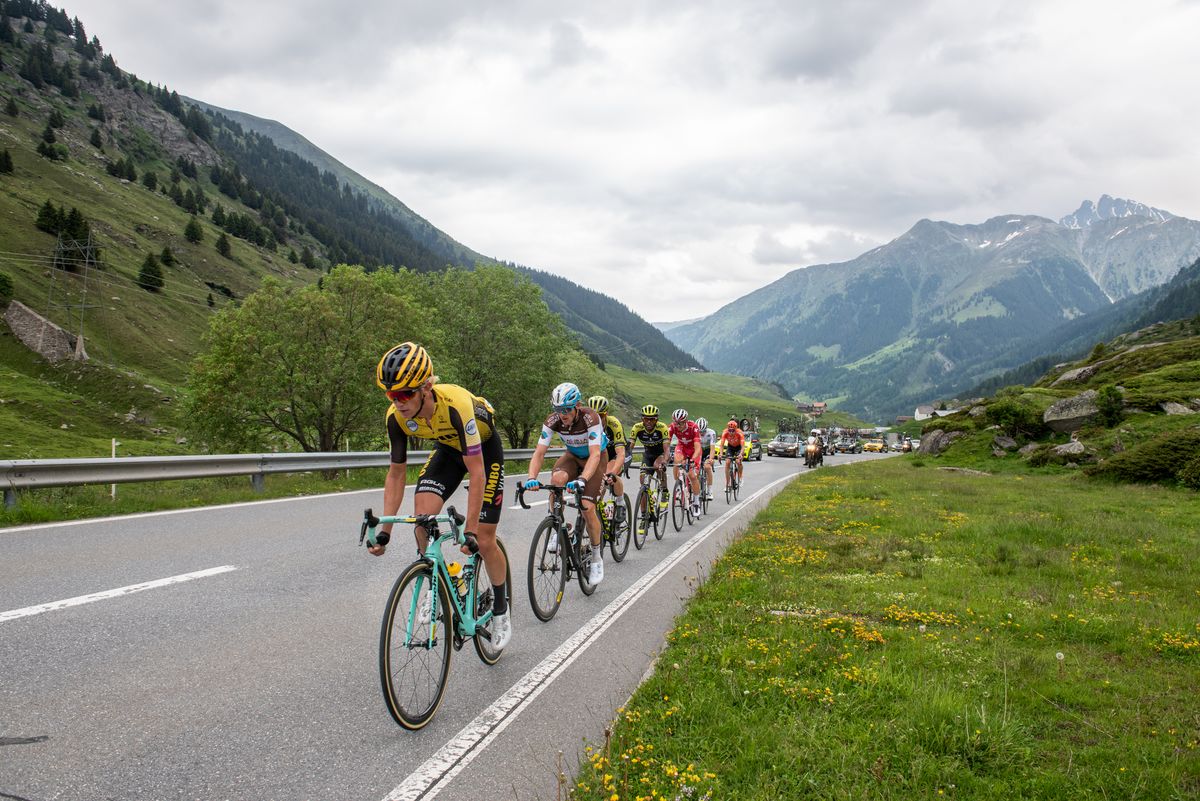 Teleportation has not been invented yet, so we believe until that time, Rouvy should remain the most realistic option for athletes like you for decades to come. You can look forward to feeling like a pro and competing against other Tour de Suisse riders. This pure competitive fun is coming!
Stay tuned for more, and we'll see you on the TdS stages!